CLEARSPACE
Use the height of the type² as a guide for clear space around the logo.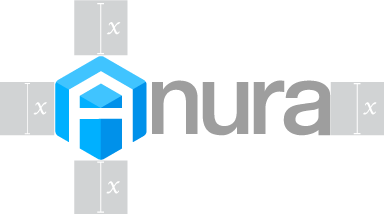 ICON
The Anura icon can be used as an icon, and singularily as a decorative element.
Anura Blue 1
Pantone 801C
CMYK 74/36/0/0
RGB 0/145/234
HEX #0091ea
Anura Blue 1 is the primary blue, used for headlines, subheads and to highlight important points within the body copy.
Anura Blue 2
Pantone 2995C
CMYK 66/17/0/0
RGB 0/176/255
HEX #00b0ff
Anura Blue 2 is the secondary blue, used together with Anura Blue 1.
Anura Blue 3
Pantone 298C
CMYK 58/5/0/0
RGB 64/196/255
HEX #40c4ff
Anura Blue 3 is the tertiery blue, used together with Anura Blue 1 & 2.
Accent Teal
CMYK 55/0/6/0
RGB 32/227/255
HEX #20e3ff
Anura Teal is the quaternary blue, used together with Anura Blue 1, 2 & 3, only within the blue gradients.
Any or all of the blues can be used together in a gradient.
Accent Green
CMYK 78/0/100/0
RGB 0/184/46
HEX #00b82e
Accent Green is the primary accent color, used for primary call-to-actions and links.
Accent Orange
CMYK 9/78/100/1
RGB 221/90/0
HEX #dd5a00
Accent Orange is an accent color, used to highlight ancillary information, like page names and notifications.
Accent Yellow
CMYK 0/22/100/0
RGB 255/199/0
HEX #ffc700
Accent Yellow is a secondary accent color to be used sparingly.
Dark Blue
CMYK 100/73/25/8
RGB 0/80/130
HEX #005082
Dark Blue is used as a background color, or when a dark contrasting color is needed.
Black
CMYK 100/100/100/100
RGB 0/0/0
HEX #000000
Black is used for headlines.
Darker Gray
CMYK 68/61/60/49
RGB 62/62/62
HEX #3e3e3e
Darker Gray is used for body copy.
Dark Gray
CMYK 57/49/48/16
RGB 110/110/110
HEX #6e6e6e
Dark Gray is used as a background color.
Primary Gray
CMYK 41/33/33/1
RGB 158/158/158
HEX #9e9e9e
Primary Gray is used as a primary color alongside Anura Blue 1.
Light Gray
CMYK 5/3/3/0
RGB 239/239/239
HEX #eeeeee
Light Gray is used as a background color, in conjunction with White, to separate sections of content.
White
CMYK 0/0/0/0
RGB 255/255/255
HEX #ffffff
White is used as the main background color.