 eCommerce
Stop bad actors from defrauding your eCommerce .
Anura reduces chargebacks, protects your merchant account, and prevents product or service loss.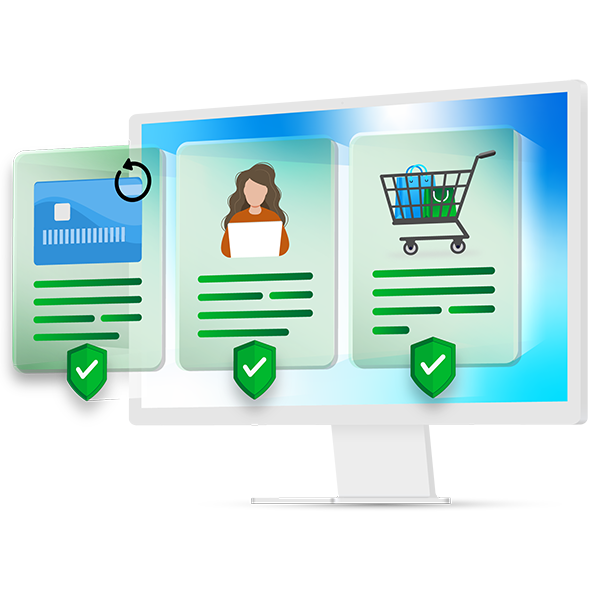 Benefits of eCommerce fraud prevention.
Block Bad Actors
Determine in real-time whether a visitor to your eCommerce website is real to protect it from cybercriminals who are determined to commit credit card fraud against you. This helps you save time and money.
eCommerce Chargeback Protection
When eCommerce fraud occurs and real credit card owners dispute charges, sites get hit with costly chargebacks. Stopping fraud before it starts helps protect you from costly credit card chargebacks.
Reduce Product Shrink
Fraudsters committing eCommerce fraud are known to ship to hard-to-track addresses or even steal packages from others' front porches. Stopping fraud before they click "buy" is a must for reducing eCommerce shrink.
Protect Merchant Accounts
When a merchant's chargeback ratio is high it can lead to an increase in processing fees, delayed funding, or even loss of your merchant account.
Watch out for signs of eCommerce fraud.
Small purchases often end up costing hundreds because of chargeback fees and other problems. These types of transactions also tend to be more easily spotted because you can look out for certain operational trends:
Monitor small order activity. If you notice that you are receiving a large volume of small order attempts, check the orders for fraud.
Keep an eye out for purchases of small items that often accompany larger ones or are purchased out of season.
Monitor purchases that come from foreign IP addresses, especially if you sell primarily inside your own country and you see a wave of traffic from customers abroad.
The most effective method of preventing credit card fraud on your site is to use a fraud prevention solution.
How does Anura's eCommerce fraud protection work?
Anura checks your website traffic as it comes in—reviewing hundreds of data points about each website visitor to verify that they're real customers and not the product of bots or human fraud farms in real-time.
We identify fraud BEFORE the bad actors click to purchase so merchants can block that transaction. Anura also stops fraudsters from abandoning shopping carts after they have filled them with items that they have no intention to buy.
Anura identifies not only fraudulent activity but where it came from so you can cut eCommerce fraud off at the source.