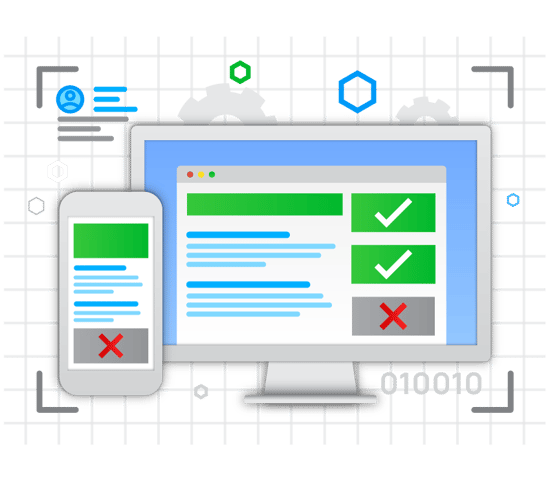 Stop programmatic advertising fraud with Anura.
Whether you use programmatic ad buying as a brand or are selling ads to brands, programmatic fraud can cripple your business and brand reputation.
Anura is the world's leading fraud solution to help protect your business from fraudsters who take advantage of programmatic advertising to rob advertisers of their rightful returns on investment.
Benefits of using Anura with Programmatic Ads:
Maximize Your Programmatic Ad Spend ROI
Removing fraud from your programmatic campaigns ensures that every dollar you spend is spent on real people with a propensity to buy.
Reduce Time Wasted on Fake Leads
Your sales team's time is valuable. Wasting it on fake leads from fraudulent sources costs more than the time spent on dead leads and traffic. That lost time also costs you valuable opportunities with real customer prospects who choose a competitor while your sales reps are busy chasing fake leads.
Improve Your Programmatic Ads with Accurate Data
Programmatic fraud skews your marketing data. Using this inaccurate data leads to inefficient ad campaign decisions. Removing the fraud opens the door to leveraging accurate data with Anura's fraud solution to make the best decisions possible.
Benefits of using Anura for Programmatic Ad Platforms:
Improve Your Platform's Reputation
By protecting customers from digital fraud, programmatic advertising platform providers can build a positive reputation—one that helps attract new business.
Encourage Repeat Business
Eliminating digital fraud from your ad buyer's campaigns helps them achieve a higher ROI than they realize from other platforms. This helps encourage them to come back for the extra value you provide.
Differentiate from the Competition
Many programmatic ad platforms claim to have a fraud solution—which in reality is a simple filter easily defeated by fraudsters. Differentiate your platform by incorporating a fraud solution that actually works!
What Makes Anura the Best Solution to Stop Programmatic Fraud?
TAG-Certified Protection
Anura is a TAG-certified against fraud solution that is rated for real-time detection. It checks hundreds of data points about each visitor to accurately identify fraud. The Anura fraud solution knows what legitimate visitors look like and how to spot fraudsters.
No False Positives
Where other fraud solutions have a 90%-95% accuracy rate (meaning that 1 in 10 or 1 in 20 fraud notifications are in error), Anura is free of false positives providing 99.999% accuracy. With Anura, you are assured that you're not throwing out good prospects – and possible sales - with the bad!
Control Your Data
Anura provides you with a complete report of all the data that was used to identify the activity as fraud. With Anura, you know exactly why an interaction was flagged as fraud and get the evidence you need to deal with the fraudster!
Anura Catches More Fraud Than the Average Pre-Bid Solution
Most "Pre-Bid" fraud solutions are optimized to detect general invalid traffic (GIVT)—consisting of the most basic types of fraud from simple bots to data center attacks. Anura dives deeper into the data to identify sophisticated invalid traffic (SIVT) and catches more fraud than pre-bid solutions relying on just one or two data points.
More effective ad placement
With our data, organizations on both the demand-side platform (DSP) and supply-side platform (SSP) can optimize how much of an advertising budget goes towards real visitors instead of fraudulent ones so companies do not miss out on any potential buyers.
As programmatic advertising clients see their improved ROI, they will likely increase their spend with you — helping DSPs/SSPs increase revenue.