Buckle up: the holiday shopping season is about to shift into high gear. Black Friday is almost here, the day when retailers who are operating at a loss (in the red) rebound (go into the black) thanks to holiday shoppers who scoop up discounted goods the day after Thanksgiving.
Over the years the momentum of shopping Black Friday has expanded to include Small Business Saturday (Nov. 24) and Cyber Monday (Nov. 26), two additional opportunities to help retailers recover from lackluster year-long sales (especially from the retail apocalypse).
Retailers who have pivoted to online and mobile sales in recent years have been reaping the benefits. 2017 was a successful year for online and mobile holiday shopping, with a record breaking $5.03 billion spent online during Black Friday, an increase of 17% from the previous year. And Cyber Monday purchases also shattered records, hitting $6.69 billion, with $2 billion of that total in mobile sales.
But not all is holly and jolly in the world of online and mobile shopping. While shoppers have been making their lists and checking them twice, so have fraudsters. Here are seven ways to protect yourself from scammers during the holiday shopping season.
1. Watch Out for Malicious Apps
Be careful downloading apps that use terms like Black Friday or Cyber Monday. Many are malicious apps that are targeting shoppers looking for deals. Once downloaded, you're potentially inviting malware, credit card number skimmers, and even ransomware onto your mobile device.
If you're looking for a deal, stick with a reputable couponing app like Honey, not a fly by night app that promises blockbuster Black Friday deals.
2. Be Wary of Email (and Text) Scams
There are a few scams out there that claim to give you free gift cards or coupons. If one of these scams ends up in your inbox, don't fall for it. This video warns consumers to only click on offers from sites you know are legitimate.
If you happen to be looking for coupons online, don't give out any personal information. Redeeming coupons typically won't require you to fill out any information. Giving a scammer your phone number in exchange for a coupon could land you on annoying call lists.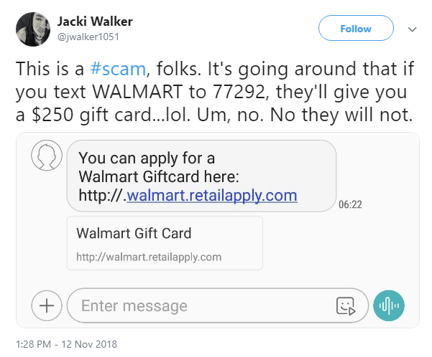 Source: Twitter
3. Set up Two Factor Authentication
When you buy something online, your order confirmation and shipping information will be sent to your email. Protecting your email with two factor authentication keeps your information safe.
Also watch out for unsolicited emails containing fraudulent sales promotions or ads. Clicking on a malicious link may take you to a scam site. If you hover over the link and it doesn't match the address it advertises, avoid it.
4. Avoid Public Wi-Fi
A Black Friday dilemma: they're out of the shirt you need. Do you a.) pull out your smartphone to order online, or b.) wait until you get home to order? If you're like most people you choose 'a.' But wait! Are you using public Wi-Fi to order? Don't do it! It's best to avoid public networks when making an online purchase. Public Wi-Fi networks are not secured, making them easily susceptible to hacking.
If that shirt is on the verge of selling out online, too, and you need to make an online purchase away from your home, make sure you're using LTE, VPN, or a personal hotspot instead.
5. Only Use Secure Websites
After shopping for hours, the words might all run together, making it hard to spot spoofed sites like this one. At a quick glance, it looks like Amazon's website. But it's really a spoofed version that could contain fake deals and products.

Source: Medium
Only use secure websites when making online purchases. Trustworthy sites begin with "https." The "s" means the site is encrypted. Without the encryption, anyone can see what you're doing.
6. Use Credit Cards (or PayPal)
Credit cards are more secure than cash or debit cards because they include protection features against fraud. If a fraudulent purchase is made, you have zero responsibility and will be able to fight the charge.
And credit cards or PayPal transfers are easily trackable, making them the best choice for your holiday shopping.
7. Keep Tabs With Your Bank's Mobile App
Don't wait until your statement comes in after the holidays to check it over. Use your bank's mobile app to check over recent purchases and immediately report any suspicious activity. Most banks allow you to set up alerts that will notify you when a suspicious purchase is flagged. Freeze any cards you do not plan on using during your holiday shopping.
Always double-check your statements to assure all purchases are yours. Also, make sure you weren't accidentally charged multiple times for the same transaction.
Hackers love holidays, too. Around the holidays (and end of the year) attacks increase by 150%. Through the holiday season, shoppers need to be vigilant. Remember, if the deals sound too good to be true, they probably are. Happy shopping!