Programmatic ad fraud is a serious issue that concerns publishers, particularly since more than 70%¹ of publishers use programmatic tools for their media buying.
But clearly the threat of ad fraud isn't deterring publishers, so what's making them continue to use programmatic marketing? The answer: social media.
Social media advertising continues to grow, and many social platforms now support programmatic buying. Last year media buyers planned to spend nearly half of their digital ad budgets on programmatic.
Whether you're concerned about ad fraud and brand safety, or are looking for better ad buying efficiency and ad targeting, here are four programmatic marketing platforms you should consider using.
4 Programmatic Marketing Platforms to Calm Brand Safety Concerns
1. Rocket Fuel
The ability to predict the right moment to deliver an ad on the right device is critical. Rocket Fuel gets that we're a "moment-driven society." With Marketing in the Moment, marketers can do just that.
Rocket Fuel's "Moment Scoring" is comprised of three parts which allow marketers to:
Score the Moment. By assigning a score to each moment, you get a tangible, specific goal.
Score the Moment Over the Life of the Campaign. Determine which moments to focus on by learning the moments that drive campaign performance.
Score the Moment Across Devices. Optimize your ads to better target consumers by scoring how a moment performs across devices (e.g. mobile, tablet, desktop).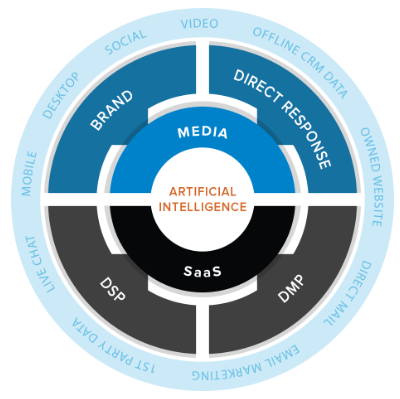 Source: Rocket Fuel
With predictive direct response, Rocket Fuel can reduce ad waste. Their platform will give advertisers more tailored targeting simply by identifying the highest-performing retargeting inventory and only purchasing the impressions likely to have an impact.
Every time a customer interacts, the Platform is learning and evolving how to optimize and deliver media that'll engage and retarget consumers across all programmatic channels (e.g. display, mobile, video, social).
Simpli.fi is all about keeping it simple. The automated ad buying process is supposed to make things easier, not harder. So, Simpli.fi's programmatic marketing platform consists of only three platforms:
Data Management. Here you can collect, manage, and integrate first and third-party data.
Demand Side. Marketers can leverage element level optimization on direct response and branding campaigns.
Supply Side. Allows you to maintain control across sales channels.
With Simpli.fi, marketers purchase highly-targeted impressions on multiple real-time bidding advertising exchanges. But instead of using pre-packaged audience segments, Simpli.fi uses unstructured, elemental data. This allows marketers to create custom, targeted audiences based on a variety of criteria including contextual content, device, browsing behavior, and CRM Data.
Simpli.fi provides for products that are hyper-targeted like Bugaboo strollers an extra layer of brand safety, which lessens the risk of your product being seen by the wrong audience.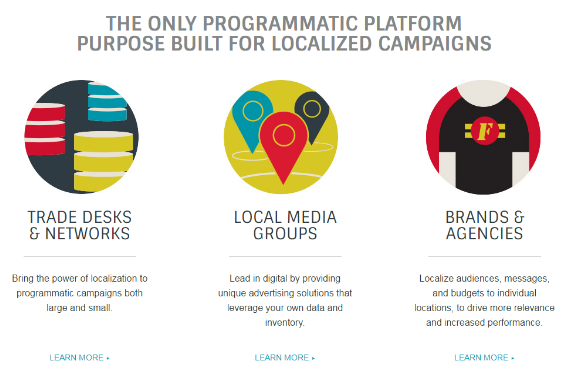 Marketers looking to engage their consumers with video ads, will also appreciate the many programmatic video options that Simpli.fi offers. These include pre-roll, mid-roll, post-roll, in-banner, just to name a few. And with real-time bidding, marketers can target consumers based on their geography and online behavior.
The appeal of automation is the increase in efficiency. But there's a drawback to the hands-on approach: lack of control. TubeMogul's programmatic TV platform not only makes TV ad buying and management simpler, but still gives you complete control across all channels.
Marketers are given access to premium ad inventory that can be customized. Here, TubeMogul offers solutions like:
Simple Ad Serving. Support deals with technology geared toward maximum reliability and uptime.
Smart Ad Serving. Stream set up and execution of private deals while still getting same benefits as real-time buying.
On Demand. Have access to premium ad inventory that eliminates negotiating with publishers.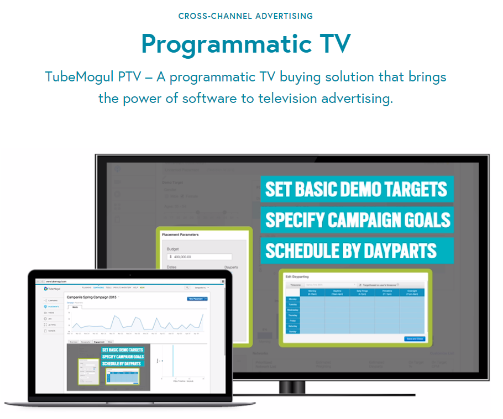 Other features include on-target delivery maximization, cross-channel frequency management, site-level transparency and media quality, and data-driven optimization tools. Here, marketers get the benefits of automation, but with the transparency and optimization options necessary to feel in control.
It's only natural that all marketers worry about ad fraud. After all ad fraud is a big problem. But if the threat of ad fraud is what's keeping you from using programmatic, perhaps consider using DataXu. The company is partners with DoubleVerify, a well-known anti-fraud company. And DataXu offers a 97% fraud-free guarantee. Not too shabby.
If you experience an ad fraud rate greater than 3%, DataXU will refund 100% of the fees associated with the 3% fraudulent media. And they'll also refund 100% of the amounts recovered from the supplier of that media.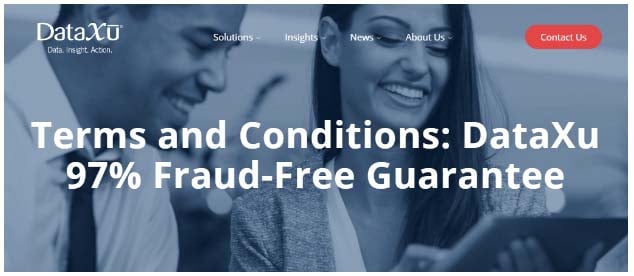 Their demand side platform also provides marketers with the tools needed to plan, buy, optimize, and measure media campaigns across all platforms.
Platform features include an Algorithm Marketplace to help achieve specific impression-level goals, along with Automatic Cruise Control. The latter provides daily optimizations based on key goals.
Depending on your needs, you can choose to bring programmatic ad buying capabilities into the office, or have DataXU Managed Services handle everything.
Conclusion
Don't let ad fraud deter you from using programmatic ad buying. As social media advertising evolves, marketers will continue to need the efficiency and access to premium inventory that programmatic offers.
Choose the right programmatic marketing platform for your needs, to not only protect your brand safety, but reap the rewards of programmatic, too.
This article was originally posted in September 2017 and has been republished with new information.
---
Sources:
1. http://www.mediapost.com/publications/article/281869/more-than-70-of-publishers-use-programmatic-tools.html
2. http://www.mediapost.com/publications/article/249294/media-buyers-plan-to-spend-46-of-digital-budget-v.html