 4 min read
Rewriting Taylor's Lyrics, "[Bots Are] Why We Can't Have Nice Things"
Richard Kahn :
November 29, 2022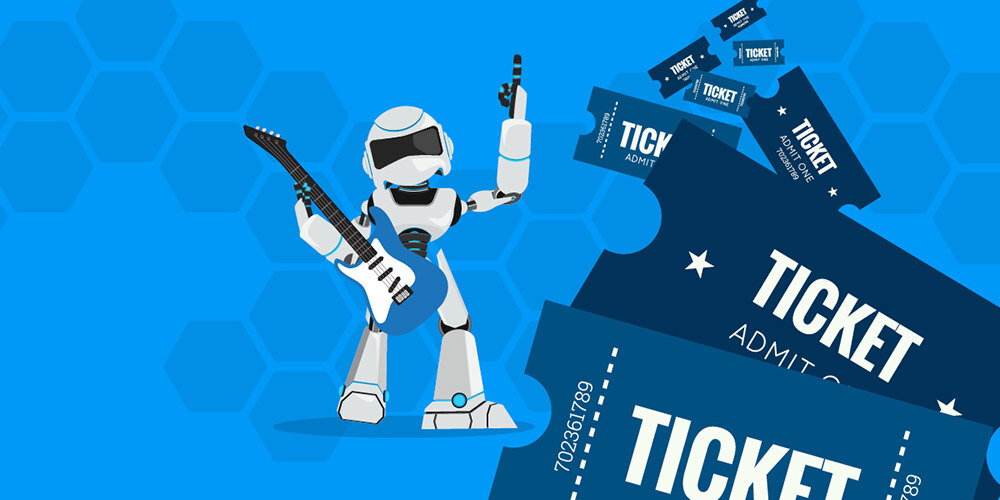 When there are only 2.4 million winners—a.k.a., Taylor Swift's Eras Tour ticket buyers—who actually got tickets after a grueling buying process, there's still nearly 10 million more fans not getting to see a show. The ticket buying process was a bit like Champagne Problems for everyone involved. But it made international news and is now the target of congressional inquiry. How did Ticketmaster let this happen?
Taylor Swift is a Titan of Her Own Making
Even if you're not a Taylor Swift fan, one must recognize she is a phenomenal force in the music industry. Her past tours routinely sold out the world's biggest stadiums, often several nights in a row. Thus, it didn't take a crystal ball to know this next one, her first in five years, was also going to be in high demand. Odds makers were estimating only 5% of ticket buyers would be successful during presale and a scant 2% would find seats during the general sale (that is, before it was outright canceled due to lack of inventory).
"The artist's team chose to use Verified Fan because it is the most advanced technology in the industry to help manage demand and get tickets into the hands of fans — not bots," a TicketMaster spokesperson told Newsweek. While her presale to "verified" fans was supposed to accommodate 1.5 million people, nearly 14 million attempted to purchase tickets that day. Of those, how many were among her estimated 9.9 million biggest fans, and how many were sophisticated bots pulling off one of the most visible ticket sale heists in history?
Seeing tickets quickly go up for resale at exorbitant prices (in at least one instance of more than $76K for one seat!), it is obvious that sophisticated bots were mingling in the same waiting room, beating out human fans and leaving many without tickets. Getting fan verified was a decent attempt to keep the bots out. And while it's a step in the right direction, it still didn't solve the anticipated issue of extraordinary demand and keeping bots from tackling the system.
Too Big for Its Britches
Ticketmaster experienced "unprecedented traffic" of 3.5 billion users that day, blaming bots and unverified fans for the sheer volume that clogged their network and crashed their site. It was not uncommon to hear of people logging in early that morning and being stuck in a queue for more than six hours before purchasing tickets—or failing completely in their attempt.
Bots can now be extremely sophisticated, and their programmers are finding work arounds to beat out the human ticket buyers. Aside from the sheer volume of traffic from humans and bots, which actually threatened to knock Ticketmaster offline entirely, other problems also thwarted the success of many fans—with 15% experiencing issues, including passcode validation errors that caused fans to lose tickets they had carted.
And for all of the cries about the problem being Ticketmaster and Live Nation's tight grip on venues and the entertainment industry, the problem isn't so much theirs but that of the ticket resellers trying to take on Ticketmaster's system to create their own inventory. What ticket resellers are doing is not outright illegal—their bots are unleashed to maximize their investment opportunities.
Who knows what we'll see come of government inquiries in the days ahead, but Ticketmaster needs to do more than just own up to their issues, including a need to acknowledge bots are playing the game on their turf. A monopoly on ticket sales actually hurts their brand as their competitors snatch up the inventory and add their markup. Ticketmaster could do more to protect people's perceptions of their services and find a more solid solution to eliminate the bots.
Break a Leg
In the end, there were always going to be fans left standing without seats. Ticketmaster estimated Taylor Swift would need to perform 900 stadium shows for all the fans who want to see her live. And that's a great problem for Taylor Swift to have. What the ticket selling debacle uncovered is that online fraud solutions must constantly evolve to beat back the bots threatening to undermine the online market.
Anura Beats the Bots
If you've spent any time online requesting a service or making a purchase, you're familiar with the check box you sometimes click saying "I'm not a robot." Or you've had to pass a vision test finding every image that includes a traffic light. These CAPTCHA and ReCAPTCHA tools are an attempt to verify human interactions online, but they are just as capable of keeping out and frustrating human users. If you've ever had to refresh or try again, you're in good company. According to the Baymard Institute, "Only 66% of users during our qualitative usability testing successfully entered the CAPTCHA on the first attempt." In an environment like online ticket sales, any slow down of the user experience exacerbates what's already a very real problem in keeping actual fans from buying their seats. In fact, humans are slower and perform worse than bots at the tasks that were originally designed to keep bots out. So, if you thought the Taylor Swift Eras Tour ticket sales was already a problem, imagine how much worse it could have been!
Even if your company's biggest online threat might not be one like Taylor's, an ad fraud solution like Anura enables you to stop bots in their tracks while also protecting you from malware and human fraud. The solution sits entirely in the background of your website, with no effect on the user experience at all.
Have Questions about Ad Fraud Detection?
Get the eBook with everything you need to know!
Anura detects fraud with precision via a robust, fine-tuned solution that delivers virtually no false positives. Get the peace of mind that comes with knowing you're never blocking real visitors. This definitive and accurate approach gives you the freedom to run your business without the worries of fraudulent visitors. It's the easiest way to stop bot traffic—and several other kinds of ad fraud, too—without hurting the user experience.
An ad fraud solution like Anura can detect even human fraud farm activity so it can be stopped in real time. Are you ready to stop ad fraud in a way that other tools just can't match? Learn more about how to stop bots by talking to our experts: https://www.anura.io/request-trial
Ticketmaster, we would be delighted to hear from you. You owe it to Taylor and all the other artists' fans to test what we can do.